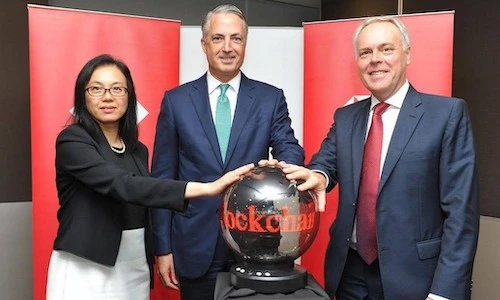 ---
KUALA LUMPUR: HSBC has pioneered the country's first blockchain transaction with the execution of a letter-of-credit (LC) deal which involved the import of resin by Malaysia's Simply Packaging Sdn Bhd (Simply Packaging) from a Singaporean company.
It said on Monday both active players in the packaging and chemicals industry respectively. HSBC Malaysia was the issuing bank and HSBC Singapore was the advising/nominated bank.
HSBC said this marks a significant step for Malaysian companies in the digitisation of trade.
It said this would make doing business simpler and faster by reducing transaction times and brings in working capital efficiency.

The use of trade finance solutions like blockchain also helps to increase the velocity of trade, especially in situations like these where shipping routes are short, like the cross- border trade between Malaysia and Singapore.
HSBC Malaysia CEO Stuart Milne said HSBC's pioneering of Malaysia's first pilot blockchain LC transaction "showcases our strong commitment and ability to support cross-border trade by Malaysian businesses using cutting- edge technology platforms".
Cross-border trade between Malaysia and Singapore was worth over US$85bil in 2018. Whilst the physical transfer of goods between neighbouring countries takes a relatively short time – usually under 48 hours – the administrative paperwork often delays their delivery. The process of exchange and checking of documents typically takes five to 10 days.
However, the Simply Packaging blockchain exchange was completed in 24 hours.
By integrating blockchain technology, the transaction has entirely digitised the administrative process through the e-presentation of key trade documents by enabling:
Integrating Bolero's electronic bill of lading (eBL) platform to issue and manage an eBL;
Transfer of title completion while goods in transit;
Paper reconciliation eliminated and updates instantaneous;
End-to-end visibility for all parties;
Resulting in just-in-time inventory management, removal of demurrage charges and shortened turnaround times.
"The quicker turnaround times does not just save companies money. It will help boost the efficiency of intra-Asean trade, characterised by many close-proximity shipping routes, which in turn helps trade to grow and flourish throughout the region. Intra-Asean trade was worth US$590bil in 2017, " Milne added.
Meanwhile, the joint managing director of Simply Packaging, Shahid Chachia, said, "As a leading manufacturer of plastic films and packaging in Malaysia, we are always on the lookout for the latest innovative initiatives to keep up with changes in the digital and economic spheres.
"We are therefore proud to be part of the first trade transaction in Malaysia using the revolutionary blockchain technology – especially when we are the first in Malaysia to do so with HSBC."
According to HSBC, this transaction demonstrates how blockchain solutions can be easily applied to all companies, regardless of size. Simply Packaging is an example of a local firm that's grown from an SME to a mid-tier company, that uses digital expertise and technical experience to streamline and increase its business efficiency.
Shahid said it was a great experience being part of the pilot project to introduce blockchain technology for LC transactions. "I believe this will be the mode of issuing LC moving forward as businesses and the governments recognise the safety and swiftness in performing tasks using the blockchain technology, " he added.
Globally, this is the eleventh blockchain transaction led by HSBC, and the first pilot blockchain transaction for HSBC Malaysia. HSBC has been pioneering the use of blockchain in trade finance since its groundbreaking Cargill LC transaction last year. This latest transaction is a reflection on how the technology is gaining traction in markets across the region.
---